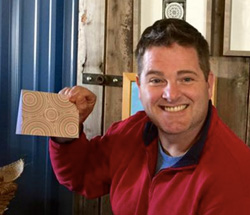 I've been an artist my entire life, but began painting on a regular basis in 2003 in McKinney, TX, as a quiet, creative outlet. In 2011, I moved to Pennsylvania to live at the Himalayan Institute and discovered a genuine connection with nature.
Abundant trees, pastures and streams dotted the landscapes on the 400-acre property dedicated to the study of yoga and meditation. I've returned to Omaha, NE, my hometown, where I continue to seek the peaceful spaces nature provides, capturing its wonderful gifts in the paintings I create.
As a graphic and web designer, I was initially inspired to create pieces that were more geographic in nature. My interest in math and geometry served as a good starting point; experimenting & exploring this new medium. Over time, I've gravitated towards painting in nature and work a bit looser with my brush.
While trying to find words to support or promote my artwork, two themes come to mind. When I paint or draw my breath is calm and I'm happy. It's my hope that there is a bit of peace and happiness is in each of my works.